"Roots and Branches"
The roots of "classic" American guitar can be clearly traced to a small bunch of gifted players who devised their own styles, musical conventions and technical strategies to enable themselves to be a self-sufficient musical world. I discovered some of these early guitar pioneers in my dad's collection of depression-era '78's, and my life was changed forever.
I've come up with the term "Steel-String Americana" to symbolize the legacy of these early acoustic pioneers, and released a CD with that title in 2002. For folks in the 21st century who take the time to listen, there's still an awful lot of nourishment coming up from those roots. In this CD, I continue my homage to that legacy, and, nourished thereby, hopefully sprout a few more branches.
Maybe, someday, in the 22nd century, some young kid will swing on one of them!
"Chunky Monkey Gumbo"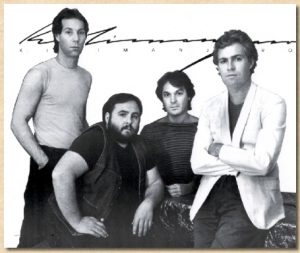 The year 1978 saw the birth of two collaborative enterprises in my adopted hometown of Burlington, VT. One was Kilimanjaro, a jazz-fusion group that I founded, and wrote original music for. Along with bandmates Chuck Eller, Tony Markellis, and Bill Kinzie, we recorded several well-received albums and toured nationally over the next 8 years, before the inevitable lure of other musical projects placed Kilimanjaro on the back burner.
That same year, Ben Cohen and Jerry Greenfield started a small handmade ice-cream business in a former garage, and sold their product to like-minded hippies out of the cheerfully-decorated storefront. Unsurprisingly, the world embraced their orally satisfying product more resoundingly than our aurally-based one… but Ben & Jerry always professed a soft spot for our musical venture, and featured Kilimanjaro music in all their commercial campaigns.
A number of years later, when they opened their factory and produced a video history of the company, they hired me to compose a down-home-flavored music theme for it. The result was this little ditty, which I have augmented somewhat since then. Thanks for the sweet inspiration, Ben & Jerry!
I play this on my TJ Thompson OM, in standard tuning.
"Needed Time/Jesus On the Mainline"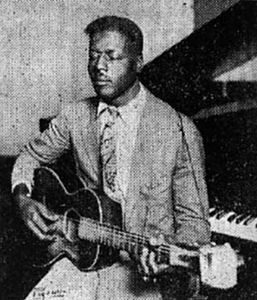 These two traditional spirituals were staples in the repertoire of southern street singers. I first heard "Needed Time" from Lightnin' Hopkins' version, although I've treated it quite differently. "Mainline" is a tune that has received many different treatments over the years, usually by gospel choirs or quartet-style groups. Fred McDowell recorded one of the few solo guitar-driven versions.
My own versions of these tunes are inspired by the playing of Blind Willie Johnson, who I discovered in my early teens in my dad's 78's collection.
I play this on a 000-42 12 fret guitar built by David LaPlante, in open Db tuning.
"Ain't Misbehavin'"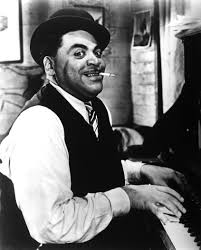 Another baby step in my ongoing effort to translate classic stride piano concepts to the steel-string guitar. Fats Waller was an early giant with effortless chops, solid swinging feel, and terrific songwriting skills; and though his adeptness at clowning created much of his huge commercial appeal, it also denied him some of the respect he deserved. In this respect, he's a similar figure to Merle Travis… a point that I suspect was not lost on the guitar wizard.
Pitching in on this are my very old friends Clyde Stats on upright bass and Joel Smirnoff (moonlighting from his regular gig with The Juilliard String Quartet) on fiddle.
I play this on my TJ Thompson OM, in standard tuning.
"Parker's Mood"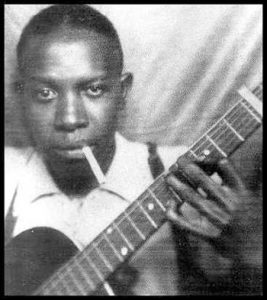 Every serious student of the blues knows that Robert Johnson recorded about 30 songs in 1936 and 1937 that collectively represented a high-water mark of skill, imagination, and inspiration for future players that continues to the present day. Though deeply rooted in the local musical traditions of older Delta players like Son House and Skip James, Johnson's recordings showcase a number of his own easily recognizable original elements, and are now regarded as being among the most influential in all of blues history. Well-known are the stories of the cocky but unremarkable young wannabe who, after ridicule from House at a gig, disappears for a while, returns a dramatically changed musician, (whether from a visit to the lower depths or the woodshed is an open question), blows away the local competition, and proceeds to fashion original songs that are appreciated by today's audiences far more than those of his own time. Perhaps best known is the untimely death from the dues of a hard life, leaving future generations to marvel at the legacy that was left within a few short years, and to speculate on what sort of musical trailblazing he might have accomplished had fate granted him a few more.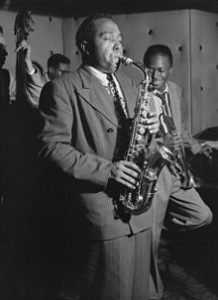 I've often thought of the parallels one might draw with another landmark figure in American music– bebop jazz pioneer and alto sax virtuoso Charlie Parker. In 1936, the same year Johnson was recording his first session, an overconfident Charlie suffered a similar bandstand humiliation from local hero Jo Jones. He went away to seriously woodshed his instrument, vowing to return a changed musician… and did, returning with chops to burn and imaginative ideas that continue to inspire future players to the present day. Parker's recordings reveal a player deeply rooted in the music of his native Kansas City, who proceeded to fashion an original style now regarded as one of the most influential in all of jazz history, though he certainly never enjoyed commercial appreciation by audiences of his own time. And, for most people, the best known aspect of his career is his untimely death from a hard life, leaving future generations to… well, you get the idea.
The parallels makes one wonder… what might have happened if Robert Johnson, rather than dying in 1938, instead traveled to Kansas City and got a gig playing in a band with Charlie? At least… it made ME wonder. And it ALSO made me wonder if there might be another musician in the world who could be equally comfortable moving from Robert's world into Charlie's, and back. I could think of only one guy… my Chicago homie, harmonica virtuoso and original Flecktone Howard Levy.
Howard is one of those guys who finds no contradiction between great respect for the blues tradition, soulful feel, and mind-boggling chops, and is at home in any musical world yet devised. Happily for me, he agreed to take the trip!
I play this on my TJ Thompson OM, in standard tuning.
"Somewhere"
Occasionally, we roots-lovers forget how time-honored is the American tradition of composers escorting folk and ethnically-based musical cultures into the "serious music" world. Aaron Copland, Charles Ives, Scott Joplin and George Gershwin immediately come to mind. My last CD included a guitar treatment of a piece from Gershwin's "Porgy and Bess", but this time I wanted to extend my reach a bit further.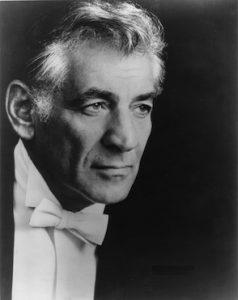 "West Side Story" remains a cultural high-water mark thanks to its successful transmutation of street-savvy latin, jazz, and popular music into orchestral and operatic form, without losing any of the vitality of the music's roots. This sort of ambitious vision has often fallen flat in less capable hands- but Leonard Bernstein joins the very small club of composers who manage to pull it off.
Tony and Maria's romantic duet "Somewhere" has been done in so many ways over the years that I wondered if a different twist could possibly be found. I think I have.
Instruments I use on this track include a Santa Cruz Tony Rice Professional, a National Tricone resonator, a Martin M-28 Custom (tuned in "high-strung" tuning), a Gretsch Duane Eddy played thru a Vox AC-30, and an Eastman 16″ archtop.
"St. Brendan's Fair Isle/St. Anne's Reel"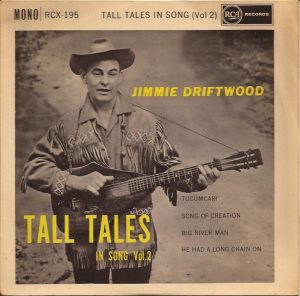 When I was aged 9, growing up on the south side of Chicago, my family took a trip down to rural Arkansas, to the home of a little-known folklorist/songsmith named Jimmy Driftwood. A pop singer named Johnny Horton had just scored a hit covering one of Jimmy's tunes, "The Battle of New Orleans", and my dad was hired to a write a magazine article on the odd phenomenon of classic americana being recycled into the pop mainstream (a foreshadowing of the recent "O, Brother" sensation!).
My strongest memories of the trip are my fondness for country ham and red-eye gravy, my refusal to use the communal outhouse, and my fascination with the songs of Jimmy Driftwood. One that still raises goosebumps for me relates the fable of St. Brendan, who set out from Ireland with a small band of like-minded men, experienced fantastic adventures, and eventually sailed the world on the back of the world's biggest fish. I've concocted an instrumental medley of the song, along with a fiddle tune with similar British Isles roots, that I heard around the same time.
On these tunes, I'm using 2 guitars built by my luthier friend, Rick Davis of Running Dog Guitars. The melodies are played on his "Sprite" model, which is based on Martin's 19th century size 5 terz guitar; the rhythm guitar is his "Chickadee" model, patterned on a unique Martin from the same era.
"Fishin' Blues"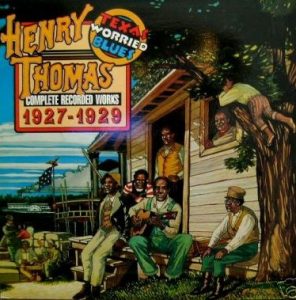 This song was originally done by Henry "Ragtime Texas" Thomas in 1928, and featured not only his guitar, but also his playing on the "quills", a pan-pipe-like instrument with African origins. Although a fairly dead art now, Thomas' quill playing indirectly found its way into the American Top 40 when used by blues-rock group Canned Heat in their memorable hit "Goin' Up The Country"- yet another example of southern roots finding a circuitous route back into mainstream American culture.
This tune and several others by Thomas were contained in the landmark "Anthology of American Folk Music" compiled by Harry Smith. It's impossible to overestimate the importance of this collection of 84 songs on the modern landscape of musical Americana- certainly Taj Mahal, John Sebastian and the Loving Spoonful, Jim Kweskin, and numerous others who have performed renditions of this song over the years were introduced to Thomas' music in this way.
My version imagines a not entirely impossible collaboration with Bahamian guitarist Joseph Spence, whose playing I've long admired.
I play this on my TJ Thompson OM, in dropped D tuning.
"Fool Me Just Once"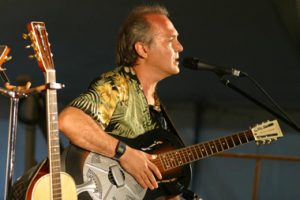 This original tune evolved out of a reworking of Sonny Boy Williamson's "Good Morning, Little Schoolgirl" that I've played for years. There are echoes of Mississippi players Tommy McClellan and Memphis Minnie in my guitar part, which has lately become one of my favorite tunes to play.
The resonator guitar used is a '97 National wood-bodied Estralita, in dropped Eb tuning.
"Gee, Baby, Ain't I Good To You"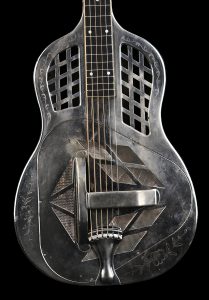 The National resonator guitar has acquired a reputation as a bluesman's axe, due in part to its development immediately prior to the great depression. But its designers were originally envisioning something quite different. The National tricone (so-called because of the elaborate 3 cone system it employed for acoustic amplification) has a much smoother sound than the cheaper single-cone "delta blues machine" usually associated with rural artists like Son House and Bukka White. It was designed and marketed as a premium grade musical instrument for the serious professional, and considering that, it's hardly surprising that it was originally embraced by Hawaiian stylists, society orchestras, and jazz artists wishing to emulate vocal melodies usually associated with the trumpet.
I wanted to place the instrument back into its intended role, fronting a jazz band. Joining me in the endeavour are tenor saxophonist Michael Zsoldos and upright bassist Clyde Stats.
Guitars used on this tune are a National tricone, a Yamaha AEX-1500, and a Gibson L-5.
"The Water Is Wide"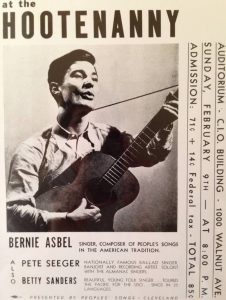 I first heard this centuries-old song from my dad, who sang the beautiful lyrics. It was years later that I learned more about its British Isles origins, and it's earlier incarnation as "O, Waly, Waly", published in 1724. My version of it is dedicated to my sister Jodi.
I play this on my Greven OM, using dropped D tuning.
"Gambling Blues"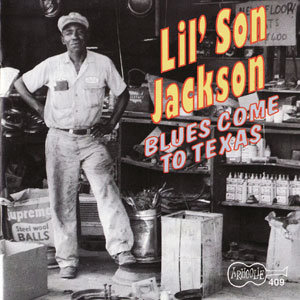 Lil' Son Jackson was from Texas, and it's hard to come from there without absorbing healthy doses of Blind Lemon Jefferson and Lightnin' Hopkins. But Jackson combined those influences with John Lee Hooker's hypnotic open-G drones on this song, which he recorded several times during the late '50's. That potent combination spoke to me, and I've fashioned a version that takes Hooker's influence a bit further.
I've never had a gambling problem… but I find the song a moving testimony to making a change in one's life.
On this tune I'm using my Greven OM, in open Ab tuning.
"Mystery Train"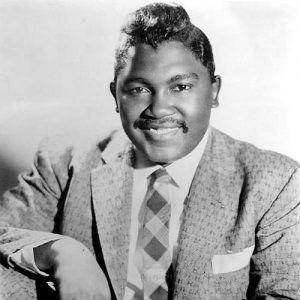 Trains are a recurrent theme in the blues, and in American folk music as a whole. In fact, the first verse of this 1953 Junior Parker classic is virtually identical to earlier songs, including Blind Lemon Jefferson's 1927 recording "Right of Way Blues" and the Carter Family's 1930 country classic "Worried Man Blues". If you're looking for the crossroads of American music where blues, country, and rock n' roll meet, Mystery Train runs right through it.
I first heard the tune on a 45 recorded in 1955 by Elvis Presley, which my dad had bought years earlier. Apparently, Sun owner Sam Phillips urged Presley to record the tune in his last session for the label, thus producing a much larger hit than Parker's earlier Sun version.
On Presley's version, one can clearly hear the Travis-picking roots of guitarist Scotty Moore's rockabilly guitar style. For years, I've played a solo guitar version of the tune …. but couldn't resist slathering a heaping helping of "Sun Sound" on the recorded version to drive the point home.
I play this on my Greven OM, in standard tuning.
"Windin' Boy"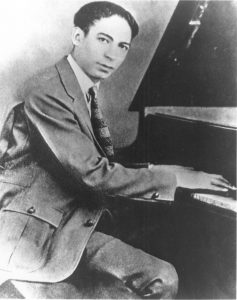 Ferdinand 'Jelly Roll' Morton claimed to have invented jazz in 1902. It's a lofty claim, and the date is questionable, but there's not much evidence to disprove his boast. Hyperbole or not, he was certainly in the heart of the Storyville New Orleans scene when jazz was starting to gel from its component parts of blues melodies, European harmonies, brass band instrumentation, and Afro/Caribbean rhythmic sensibility, with the piano as its epicenter.
Jelly recorded several versions of this tune, and the name has been erroneously spelled in several different ways. Despite its world-weary vibe, the complete lyrics make it clear that this tune saw action in some VERY bawdy situations. I've chosen to edit the lengthy libretto in deference to "family values" sensibilities, but chose to spell the title in keeping with the song's real theme of sexual braggadocio.
It's been said that it takes 2 great guitarists to sound like one mediocre pianist. Undaunted, guitarists never stop trying…. and to prove the point, Dave Van Ronk, Jorma Kaukonen, and others have attempted renditions of Windin' Boy over the years. In my version, I've tried to catch a bit more of the rolling swing that comes so naturally to jazz pianists, thanks in large part to Jelly.
I play this on my Greven OM, in standard tuning.
"Hideaway"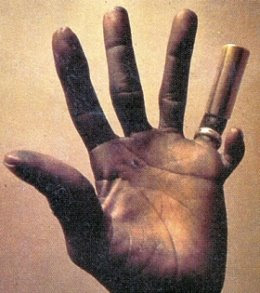 This classic guitar instrumental showcase will forever be associated with Texas-bred Freddie King… but practically every late '50's Chicago blues guitarist played some version of the theme as a break tune. Slide guitarist Hound Dog Taylor is usually credited with the original idea, but my former employers Magic Sam and Earl Hooker both played versions of it as well. Freddie beat the others to the punch by recording it first, on the Federal label…. he named his version after Mel's Hideaway Lounge, a West Side spot at which he held down a regular gig.
I've played the tune in many blues bands myself over the years, but I wanted to see if it could be done by one guy, on acoustic… and it can! But it's even more fun with the right harp player… and that would be Howard Levy. I love how Howard has both mastered and then extended the vocabulary so firmly established by the Walters and Sonny Boys, without sacrificing an ounce of soul in the process. To me, that's what it's all about…
I play this on my Greven OM, in standard tuning.
To purchase the "Roots & Branches" CD, click HERE!