Reviews

What They're Sayin' About "Steel String Americana" . . .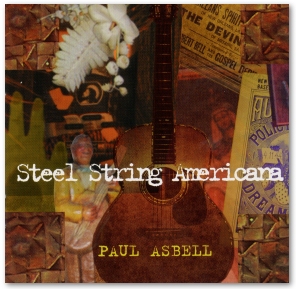 "Paul Asbell's 'Steel String Americana' is a wonderful album! What I keep coming back to is how musical it is…. I've actually been a fan of Paul's guitar playing for quite a few years- I think he's one of the best-kept secrets in American music today!"
David Bromberg , acoustic guitar legend
"…Steel String Americana is… a sumptuously recorded showcase for the myriad wondrous tones of the solo acoustic guitar- played by one who knows how to extract them all… Definitely one of my favorite guitar CD's of 2002."
Vintage Guitar magazine, "Check this Action", Dec. '02, written by Dan Forte
"…veteran guitarist Paul Asbell fingerpicks his way through a stylistically diverse collection of tunes plucked from the great American musical canon and arranged and played with finesse, imagination, and humor. Asbell's beautiful instrumental versions of the 1960s pop hit "Will You Still Love Me Tomorrow" and the venerable jazz standard "Stardust" seem right at home in a set that also includes … a funky fingerstyle rendition of Jerry Reed's "Amos Moses" that just might make you reassess the original."
Acoustic Guitar magazine, in the April '03 "Hit List" section
"A genre-blurring, virtuosic waltz through the deep heritage of American folklore, where styles of Robert Johnson, Doc Watson and Dr. John rub elbows with those of Joe Pass and Bill Frisell."
Flynn Theater,  Burlington, VT's 1500 seat performing arts venue

"Your CD has been on my player constantly since it arrived. The CD is wonderful! It is quite the best CD of acoustic guitar that I have heard in years! A great example of what can be done on a steel-string guitar if one only has the vision – and the energy."
John Pearse , noted folk performer and instrument, string and accessories designer
"'Steel String Americana' is simply stunning. Period. It is superior- in terms of both tone and performance. I want to tell all my guitar comrades about your CD!"
Brooks Williams, singer/songwriter/guitarist extraordinaire
"Solo acoustic guitarists tend to specialize in one genre, but Paul Asbell delights in exploring a spectrum of styles. With steady hands and a relaxed sense of swing, he tackles bouncy ragtime fingerpicking, crisp flatpicking, and lush, jazzy chording with equal aplomb…. Asbell – who began his career backing Otis Rush and Magic Sam in Chicago blues clubs – knows how to sneak passing chords and moving bass lines into his arrangements without obscuring the melody or cluttering the groove. Fretting a bevy of vintage Martins and boutique flat-tops, (he) reveals his mastery of dynamics, phrasing, and timbres on this impressive debut."
Guitar Player magazine, in the November '02 "Reviews" section
"Asbell's amazing guitar work elevates (the pieces) to a higher level. "Stardust"… is pure gossamer, while his wistful, aching treatment of "Will You Still Love Me Tomorrow?" simply stuns…. A fine effort."
"Minor 7th" acoustic guitar reviews, Nov/Dec, '02
"Finally got to sit down, back home and give your cd some play…..can't take it off…. One of the most exciting new things I've heard in years!. It's so cool to hear a new slant on the music I love. So few have ever really added to the genre…."Boy Howdey"!!. I think you should turn some heads with this one!"
Roy Book Binder, acoustic blues great
"Asbell… plays acoustic guitar at a high level… without piling on the ruminative charm that sustains so many other purveyors of folk blues. His singing is pleasantly expressive, cornpone bound up with conviction."
DownBeat magazine, in the July '03 "Reviews" section, p.74
"One of my Top Five CD's of 2002"
Dan Forte, CosmikDebris online music 'zine, January '03 Issue #91
"Your cd blew me away. Your music is strong, heartfelt and absolutely soulful. I played it all the way through and enjoyed every single second of it. You remind me of Chet Atkins, Pat Donohue, David Grier and Jorma Kaukonen all rolled into one. I've decided to start an Artist Of The Month feature on the site, and I'd like to kick it off with you! Great stuff – please keep it coming!!!!!!!" Paul Asbell – 13th Fret Artist of the Month for August 2002.
Dave Skowron, proprietor/web manager of Flatpickin.com acoustic guitar discussion forum
"Steel Strings Americana has become one of my best listening tools on the road. It sits in my briefcase right next to Blind Blake, Boy Fuller, Rev Gary and all the rest. Not only are the guitar chops good but also the vocals and instrumentation are top shelf. A must own CD for any collector of American music."
Doug Jones, aka "Little Brother", Acoustic Player Magazine Forum, 9/29/04
"I do love your playing – in all the many styles that you have mastered . . . you blew me away with the Big Bill Broonzy and Blind Blake stuff you played AFTER you played every other style of music with real heart. You are the real thing… You are AWESOME!"
Dan Erlewine, respected guitar repair/construction guru to the stars
"Going back to the '70's, …Paul Asbell (has been) an inventive and always-interesting electric guitarist….. On this solo debut, Asbell emerges as a major league acoustic player who offers a seamless 20th century Americana blend of folk, blues, early jazz and pop music."
Sing Out! Magazine, in the Spring '03 CD review section
"…mesmerizing… Best Vermont CD of 2002."
Burlington Free Press, Dec. 19, '02

What They're Sayin' About "Roots and Branches" . . .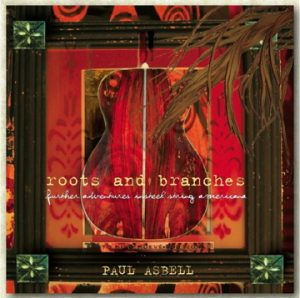 "Few pickers work from as broad a stylistic palette as Paul Asbell. His latest album includes stunning interpretations….(and) a keen ear for timbral shading. …his remarkable picking takes center stage. Exquisite 6-string sounds."
Guitar Player magazine, June, '05 issue, "Rants and Raves"
"Asbell's virtuoso solo performance pays homage to his amperaged Chicago roots while presenting his daunting skills…. Though no where near as well known as Leo Kottke, Duck Baker, Roy Bookbinder or the late John Fahey, Asbell's consummate mastery of blues, folk, early jazz and olde-timey music warrants his name being mentioned in the same breath as his esteemed predecessors."
Dave Rubin, PlayBluesGuitar.com CD Review
"Asbell lays down intricate, pianistic patterns…yet keeps a serious blues feel going. (His) dexterity… and imagination… are evident throughout…. Bolstered by high, clear vocals, the music is evocative and brilliant."
Blues Revue, Oct/Nov 2005, review by Tom Hyslop
"(Roots & Branches) doesn't let up…. Paul Asbell is a guitar master, and has come up with a diverse album that usually only reaches such a consistency via a 'various artists' compilation."
Blues Matters magazine, 9/05 issue
"Paul's been at the top of the guitar players heap so solidly for so long that extraordinary is expected, which can create its own little challenges. But Paul has a knack for living up to and exceeding even the highest of those expectations. This new recording…. is yet another testament to his mastery of the rich possibilities using six-string guitar."
Mark Sustic, long-time "roots music" festival and concert promoter
"I think you really out did yourself on this one. I love both your CD's and they seem like bookends but this new one just floored me. I didn't think it could get better and it just did!"
Doug Jones, aka Little Brother AcousticPlayerMagazine.com

What They're Sayin' About "From Adamant to Atchafalaya" . . .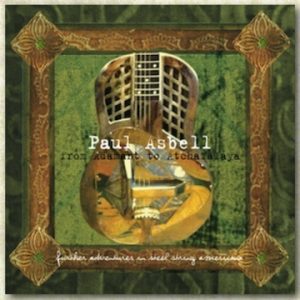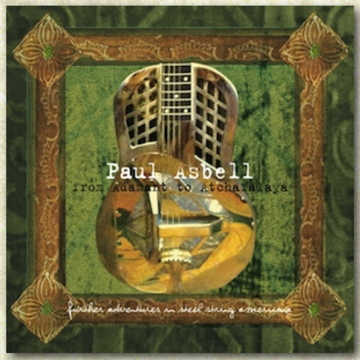 "Vermont has many fine musicians, but in the realm of steel string guitar playing, the prize goes to Burlington guitarist and Middlebury College music teacher Paul Asbell…. For guitar aficionados this CD is a pleasure ride into great guitar land…. We're really lucky to have such a fine, intelligent musician in our midst."
RutlandHerald/TimesArgus, review by Art Edelstein, Nov 7, 2013
"From Adamant to Atchafalaya is final proof — in case there was any doubt — that Asbell is a guitarist to be reckoned with….Lush and precise playing is (Asbell's) specialty, and he has filled the disc with a signature style and richness… The 13 tracks on this disc showcase the breadth and depth of Asbell's knowledge of the music and his technical mastery over his instrument."
7 Days, review by Robert Resnik, Nov 13, 2013
"Today Asbell has become a musician's musician…. His style is fluid and crisscrosses much of the American guitar picking legacy. He is a true master."
Nippertown, review by Don Wilcock, Apr 16, 2016

From Reviews of Kilimanjaro . . .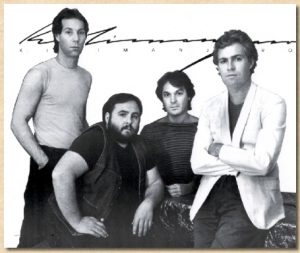 "Mark well the name of Paul Asbell, lead guitarist and inspiration behind Kilimanjaro, an accomplished assemblage of unknowns. …Asbell, who wrote the nine tunes… sparkles throughout with clarity and precision worthy of George Benson- though without Benson's artifice. The upshot is a balanced blend of instrumental jazz, pop, and R&B. … An auspicious debut."
"Boston Phoenix" magazine, December, 1981, in a 3-out-of-4-star album review
"Kilimanjaro radiates with individual talent. Their ability to incorporate and balance their skills, in live performances and in the studio, has won over audiences around the country. …Led by composer/guitarist Paul Asbell, Kilimanjaro has begun to establish itself as a band with a clean, unique sound that is, simply put, good jazz. …(Although) much of his style comes from his blues techniques, Asbell has great versatility, able to go from delicate picking to the unique sounds he elicits from his Roland guitar synthesizer."
"Jazziz" magazine, Jan/Feb 1984
"Kilimanjaro, one of the brightest new jazz groups of 1981, returns with their second highly energetic LP. As with much of the better contemporary jazz, Kilimanjaro's musical imagery successfully suggests mental/emotional environments that allow the listener to wander and explore his own images, landscapes, and dreams. Their versatility is admirable… each of the four band member has ample opportunity to demonstrate his virtuosity within the tightly structured, well-integrated melodies…. All in all, 'Kilimanjaro II' is a finely crafted and produced item that should have broad appeal."
"Boston Globe", Feb 10, 1983
"The second Kilimanjaro album reflects a growth that is sure to place this band at the forefront of progressive jazz entities to be reckoned with in the '80's. Each song has a lot of thought and sweat put into arrangements and playing. Paul Asbell, Chas Eller, Bill Kinzie and Tony Markellis combine effortlessly to create virtuosic solo and ensemble playing that makes you sit up and take notice."
"Black Radio" magazine, March 4, 1983
"Each of the nine tracks is instrumental, highlighting the light and nimble-fingered guitar work of Paul Asbell. …the musicianship is first-rate and everything is pleasing to the ear."
"Billboard Magazine's Top Album Picks", February 21, 1981
"This talented quartet combines jazz and rock influences, but never in a heavy-handed way. Instead, they fly through upbeat instrumental compositions with a freedom that suggests the best of Chick Corea."
"Record World Album Picks" February, 1981

What They're Sayin' About Paul . . .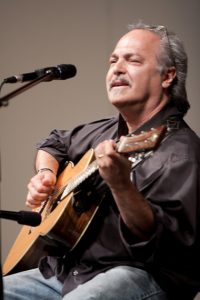 "Asbell's musical personality comes out most fully when playing his own brand of American roots music… in live performance, Asbell reveals a deep appreciation of the history behind each tune, while giving them a fresh, updated touch."
Acoustic Guitar magazine article, April 2010
"Asbell is as authentic as it gets and a true master of the jazz/blues/Americana genres. He gave the audience just enough history about the music to pique interest and inform without ever coming off as stodgy or stiff. His presence onstage and off is altogether very pleasant, his demeanor guileless and his music very, very soulful.
Paul's show was the first Sunday concert that has been 'sold out' that I have ever hosted in the ten years I have been presenting my House Concert Series. If you have the chance to book Paul Asbell for your series…whether it be a House Concert or a traditional venue, I HIGHLY recommend that you do. He is a great player, composer and teacher as well as an unassuming, delightful guest."
Robin Ralston, Coolwater Concerts, 1/25/14
"Paul is a consummate entertainer with a large following of guitarists who know the best from all the rest…"
Eric Schoenberg, world-renowned vintage guitar authority, legendary guitarist, and owner of Schoenberg Guitars
"I have had the great fortune of presenting Paul Asbell at the Healdsburg Guitar Festival many times. Few instrumentalists possess such virtuosic command of so many styles. His versatility is staggering. But beyond this, what audiences take away from Paul's performances is his tremendous love of music and melody. There is a joy in his playing that is infectious and inspiring, and it keeps fans like me returning to his shows and recordings again and again.
To top it off, Paul is simply the greatest guy. A great friend to music and guitar lovers around the world who have had the pleasure of listening and learning from him."
Chris Herrod, Sales Manager, Luthiers Mercantile, Int'l
"Paul is an incredible player as well as a great instructor….his versatility and knowledge of the guitar and music idioms is amazing. …The sheer volume of useful information in the hand-outs will keep me busy for years. There was not a wasted moment and it was very enjoyable."
Healdsburg Guitar Festival workshop participant
"Paul played to a packed house, to an audience ranging in age from seven to seventy-eight, and he managed to keep that diverse audience rapt for a show that lasted over two and one-half hours. ….The variety was incredible, and the quality of the playing even more so…. Each person came for their own reason, and each walked away at the end of the evening feeling like they had experienced magic."
Arlene Boumel, Coral Springs, FL concert presenter